The Importer's Survival Kit
The hardest part about importing is knowing where to find all the information you need.
The Importer's Survival Kit is about more than just learning the import process. It's a compilation of the top five resources US Customs Brokers use everyday to answer their client's questions about international trade.
Don't pay any brokerage fees until you've read this material!
Almost everything your broker will tell you about importing is covered by one of the five publications in this kit.
Consider the average $100 dollar hourly rate of a licensed US Customs Broker versus the one time cost of the Importer's Survival Kit. With most importers needing more than five hours of consultation from a broker, the Survival Kit is a practical way to kick start any importing venture with very little investment.
The Importer's Survival Kit contains five resources hand picked by our staff of licensed US Customs Brokers. With well over 3,000 pages of specific advice and money saving tips, the Survival Kit is packed with information you can use in any import operation.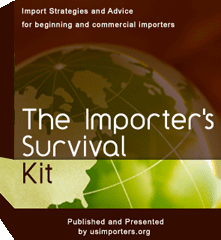 The Survival Kit Contains
Importing into the United States: A Guide for Importers
With over 300 pages, this guide provides invaluable information on the import process including answers to questions like:
Where do I start?
What are my responsibilities?
Will I have to pay anything?
What forms do I need?
as well as answers to product and country specific issues, information on other government agencies like the FDA and EPA, and a whole lot more.
This is the same worn, dog-eared, and highlighted guide hundreds of professional importers have on their desks right now. If you call them with questions, they will use give you answers directly from this book!
The Customs Valuation Encyclopedia
A thorough explanation for importers answering that all important question, "How much is this going to cost?"
The US Harmonized Tariff Schedule
Over 2,500 pages of detailed information on virtually every product imaginable. It contains detailed and information about
Product duty rates,
Import restrictions,
Product specific import regulations,
Detailed weight and measure reference tables,
and much, much more.
The Quick and Dirty Guide to Importing
This 12 page quick reference guide is an essential overview of the import process. It's the same guide available for free on our website and is an important part of any serious importer's collection.
Download it now to get an idea of the quality of information you get from just twelve pages out of this kit.
A Basic Guide to Exporting
Exporting is a natural alternative income for importers. It has enormous potential for dedicated importers that already have overseas contacts. With exporting, one extra phone call can nearly double your business!
This guide will tell you where to start, what to look out for, and how to make the most from your efforts. Once you've mastered the import process, come back to the Basic Guide to Exporting and double your profits.
Our guarantee
Our goal instead is to help the personal and business importers that fuel our national economy. With that in mind, if you're not completely satisfied with this product for any reason, tell us and we'll refund your money – no questions asked.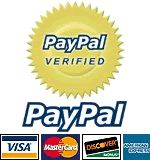 Normal Price: $149.95
Sale Price: $54.95
Sale price valid to
This product is available in downloadable format and requires the free Adobe Reader

Did you know…
You don't have to have a license to import?
You don't have to hire a broker to file paperwork?
Your import can be refused entry into the US by Customs
Average fines from US Customs range between $1,000 and $50,000?
Our Customers
It [the kit] answered the questions I had and told me the questions I should have been asking.
-Steve Harris, Oklahoma Medical Solutions Inc.
The tariff showed us that we don't need to pay import duties on our sample items. We're negotiating with Customs to get more than $1500 in import duties returned to us.
-Stacy Weineman, company name withheld
Good info and good customer service. I'm passing these around the office today.
-Peter Kristopherson, V.P. Reginald Trading Services Ltd.